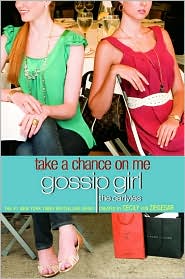 Take a Chance on me by Cicily Von Ziegesar......
The Carlyle triplets have made a lot of new friends in Manhattan-and more
than a few enemies. O stole his best friend's girlfriend, and
A
de
throned the queen bee. Now a line has been drawn down Fifth Avenue, and
it's all-out war. Only here, the battles are fought with icy glares and vicious rumors. It's the Upper East Side, and all's fair in love and scandal...
This is the 3rd book in the Carlyle series, which is a spin off of the all original Gossip girl but with different characters. As much as i am in love with Gossip Girl, The Carlye's bring a certain style and Prestige that is not necessarily better but different. The triplets are all different, Owen is having girl problems, Avery is having a job struggle, and Baby well is just having life Struggle. My favorite part about Ziegesar's writing is the description and detail she explains. I adore hearing about all the fabulous Designer clothes and scents of Central Park. This book really doesn't get juicy until the end! The middle gets a little repetitive and i put it down for a while. But otherwise a Fun Guilty pleasure!
I give it 3/5 suns